City wall built around 15th century - Olkusz Market Square.
Ruins of Ogrodzieniec Castle.
Church and ruins around Wolbrom
Village Raclawice, wooden church built around 14 century.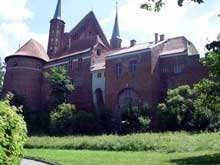 Frombork cathedral built in 14 century. Mikolaj Kopernik the great astronomer and mathematician lived and worked in Frombork as a canon in (1512-16 and 1522-43).
Churches around Wieclawice village near Krakow
Only one left, built around 18 century cottage, Raclawice village.
Castle Wisnicz
Wisnicz castle built around 1500. The castle flourishes till the Swedish invasion in 1655. The Swedes significantly damaged the building and ransacked its interiors, taking with them 150 carts filled with works of art and other valuables. The attempts at a restitution of the castle's former splendour fail and the castle never regained its former splendour. In 1831 the fire finally destroyed the castle. A reconstruction of the castle started in 1928. The outbreak of war in 1939 interrupts the works on the castle. The renovation started again in 1949. From 1991 the castle is renovated and maintained in good condition.
Part of the Jura Krakowsko-Czestochowska. Most photos taken from the trail of the Eagles' Nests named after a chain of 25 medieval castles.
Castle Korzkiew 13 km from Krakow.
Castle Lancut
Castle Lancut built in 17 century 180 km east from Krakow, interesting place to visit.
Nowa Huta was started in 1949 as a separate town near Krakow on terrain villages of Mogila, Pleszow and Krzeslawice. In 1951 it was joined with Krakow. Nowa Huta recently became one of the top tourist destinations in Krakow as a post-communist district with very typical post war architecture.
Central Square
Central Runabout (Aleja Roz) located between "Central B" and "Central C" Estates.
View from the Central Square