CASTLES, RUINS, CHURCHES, KRAKOW, NOWA HUTA
CASTLES, RUINS, CHURCHES, KRAKOW, NOWA HUTA
Castles,Ruins,Churches of Krakow and region. The origin of Krakow dates back to early Middle Ages Two prehistoric mounds commemorating two legendary rulers, Krakus and his daughter Wanda, seem to bear witnes to the ancient origin of the town. Our first deskription of Krakow comes in the year 965 from a merchant from Cordoba, Ibrahim iban-Jakub. Krakow have witnessed the batismal of Prince Mieszko I. In the year 1000 a bishopric was established in Krakow; this time also marks the erection of the first Romanesque structures on Wawel Hill.
Press on the photos to enlarge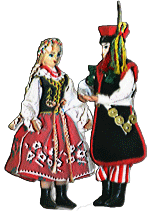 Castle Wisnicz
Since the mid-eleventh century the Wawel Castles has been the main seat of Polish rules,and in the same century, under the reign of King Casmir the Restorer, Krakow became the capital of a wide-spread country, and served as such until the end of the sixteenth century, that is to the decline of the Polish State.
Royal castle
Niepolomice
a copy of royal castle Wawel
Niepolomice
Go to
Ojcow
Castles Ruins Churches, Krakow Poland

Design: Web design LP Graphics


Sponsors: PA Guitar Factory Online Music Store Instruments Music Pinnacles Krakow
CASTLES, RUINS, CHURCHES, KRAKOW, NOWA HUTA
CASTLES, RUINS, CHURCHES, KRAKOW, NOWA HUTA